If it seems like it has been a decade since Congress did anything good for conservation and the protection of Oregon's public lands, there's a reason for that.  Up until this year, 2009 was the last time Congress passed a major piece of Wilderness legislation that benefited special places in Oregon.
The good news is that Senators Ron Wyden and Jeff Merkley have ended that drought by convincing the US Senate to include portions of the Oregon Wildlands Act in a bipartisan public lands package.  The better news is this legislation passed the Senate on February 12th by giant margin (92-8).
Now for the bad news.  Politicians who fanned the flames of public lands dysfunction over the last decade, like Representative Greg Walden, now want a share of the credit for this achievement.
This credit claiming came into view last week in the form of a strange Bend Bulletin editorial that read as if it had been written by Rep. Walden himself.  In it, the Bulletin attacked Wyden, Merkley, and the public lands package for not being truly bipartisan (despite the 92-8 vote), and talked up Walden's role in a provision that opened up the Whychus-Deschutes Wilderness Study Area to logging in the name of fire suppression.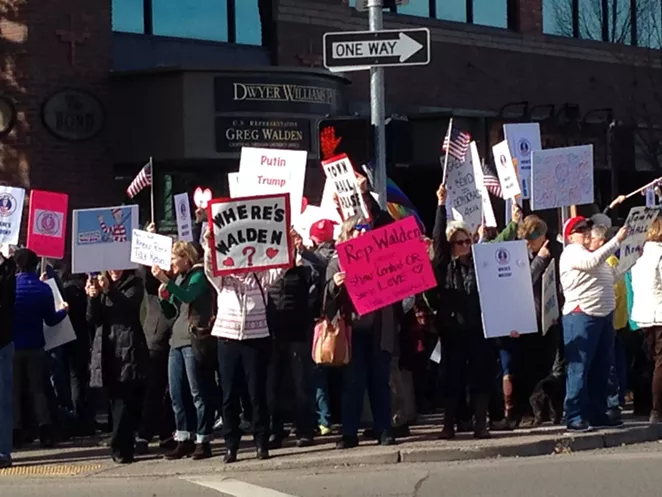 That the Bulletin ran such a piece isn't surprising.  For years, the paper's editorial page has served the role of Bend's Breitbart.  Whacky editorials have defended Rep. Walden's notorious habit of hiding from his constituents, while giving him opinion space to defend the Bundy movement and tell some whoppers about public lands management.  At the same time, the Bulletin's editorials are notorious for attacking conservation, from opposing efforts to protect the Ochoco Mountains to cheering for Trump's assaults on National Monuments.  An editorial page that claims to support conservative values has often seemed more aligned with Alex Jones than Teddy Roosevelt, and is often openly hostile to the outdoor recreation economy that is so vital to Central Oregon.
What is surprising is that the Bulletin seemed genuinely puzzled as to why Senators Wyden and Merkley were getting such praise for their work on the Oregon Wildlands Act.
The simple reason for that is that we Oregonians love our public lands.  Whether we hike the trails of the Three Sisters or Salmon-Huckleberry Wilderness, raft the Wild and Scenic Deschutes and Rogue Rivers, or hunt and fish the backcountry of the Wallowa-Whitman and Ochoco National Forests, we treasure the days spent exploring the wildlands of our state.
Oregonians also understand that these natural treasures don't get protected from logging, mining, and other destructive development by accident.  They get protected because the people who love them demand it, and because our elected officials listen and act. The Oregon Wildlands Act is an example of Ron Wyden and Jeff Merkley listening and acting on Oregon's conservation values.  They are receiving praise from hikers, rafters, fly anglers, and hunters because they earned it.
If Rep. Walden wants the same kind of praise, perhaps he should change his behavior. A good start for Walden would be to stop blocking Wilderness protection for Oregon's beloved Wild Rogue.  His primary contribution to the Wildlands Act thus far has been to oppose Wilderness protection for this 58,000-acre area, demanding instead that Oregon's most beloved whitewater rafting destination be opened to logging.
Next, he could honor the National Park Service's nearly 50-year-old request that Congress designate the backcountry of Crater Lake National Park as Wilderness.  In addition to the backcountry of the park itself, there are hundreds of thousands of acres of wild, roadless country around it equally deserving of protection.  Rather than promoting the misguided idea that we should squander public money logging these remote backcountry areas in the name of fire prevention, he could instead work to ensure that money is spent wisely protecting homes and communities.
Finally, Walden could demonstrate his willingness to stand up to the Bundy movement by protecting the Ochoco Mountains National Recreation Area, and the high-quality mule deer, elk, and redband trout habitat it contains.  These lands are in danger of being overrun by off-road vehicles, and loved to death by crowds that the Forest Service is ill-prepared to manage.  Walden isn't making this situation any better by joining anti-government militia groups in attacking conservationists, recreation advocates, and land managers.
Walden knows what being bi-partisan, and being a conservation champion, looks like.  Back in 2009, he joined former US Senator Gordon Smith (also a Republican) in voting to protect 125,000 acres of new Wilderness and Wild and scenic Rivers around Mount Hood, and another 75,000 acres state-wide.
If Oregon saw more of the Rep. Walden we knew in 2009, and less of the Walden who reached outside of his district to block Wilderness for the Wild Rogue in 2019, perhaps he could enjoy the same kind of praise being directed at Wyden and Merkley and the bipartisan Senate public lands package. And the Bulletin could finally run an editorial accurately praising him for doing something good for the conservation of Oregon's public lands.
Author's note: while the Bulletin's editorial page has a well-deserved reputation as Bend's Breitbart, the journalists who produce the news artcles that appear in the paper work hard and generally do an excellent job of reporting honest, factual news.
Photo Credits
Sunrise over the Wild Rogue courtesy of the US Bureau of Land Management, "Where's Walden" rally courtesy of the Bend Source, Walden on Bundy armed occupation of Malheur NWR courtest of C-Span.